Yellowstone Wildlife Sanctuary
mountain khakis + yellowstone wildlife sanctuary
---
Giving Back And helping support the greater yellowstone ecosystem.
To aid in giving back and helping support the Greater Yellowstone Ecosystem, Mountain Khakis has partnered with the Yellowstone Wildlife Sanctuary in Red Lodge, MT. Mountain Khakis is proud to support the 30+ various animals and species finding refuge at the sanctuary, namely their resident bison Speedy. As part of the sponsorship Mountain Khakis will be covering Speedy's food expenses, which allows the Sanctuary to upgrade her daily diet to a specialty grain that is crucial for an adult Bison unable to live independently in the wild. In addition, Mountain Khakis is excited to donate 5% of proceeds from each Yellowstone Wildlife Sanctuary T-Shirt sold directly back to the Sanctuary. Do good, feel good, look good. Everyone wins.
Learn More About Yellowstone Wildlife Sanctuary
Meet the Yellowstone wildlife sanctuary animals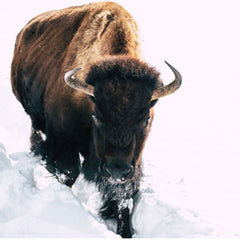 Bison
SPEEDY was born a runt, and was rejected by her mother. She was raised as a pet, and became so habituated that when we tried to release her into the wild, she wouldn't go. She's still small for an American bison — about 750 pounds — but otherwise healthy.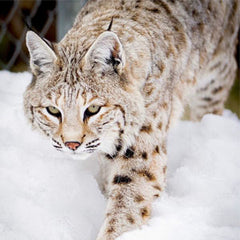 Bobcat
BOB was raised as a pet, and came here when he was no longer able to be taken care of by his original owners. He is declawed and habituated to humans, so he can never be released into the wild. Bob was born in 2011.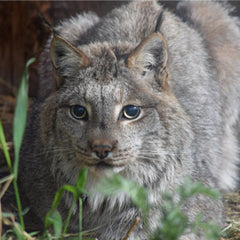 Canada Lynx
THOR was born on a fur farm. The person who purchased him from the fur farm ended up bringing him to us for long-term care. Thor has very poor eyesight and never learned to hunt, so he can't be released into the wild. He was born in 2006.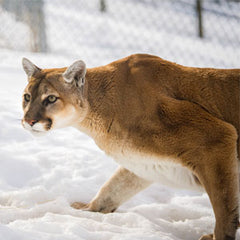 Mountain Lion
SACAJAWEA was found in a window well outside of Bozeman in 2007. Her mother had been killed, and Sac was an orphaned, starving, kitten. She was transferred here for long-term care.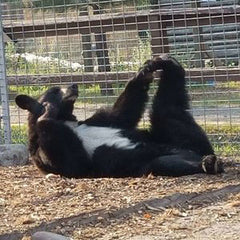 black bear
BLUEBEARY is from the Flathead Indian Reservation. She came to us as a small cub, and can't be released because she's habituated to humans. About a quarter of all the black bears in the Rocky Mountains have a white patch on their chest like BlueBeary does. Can you guess from her name what one of her favorite foods is?
black bear
BO, born in 2007, is our youngest bear. He was orphaned and found by loggers west of Missoula. After staying with the loggers for a while, he was transferred to a rehabilitation center in Helena and then to us. He has been sharing a habitat with Blueberry since he was a few months old.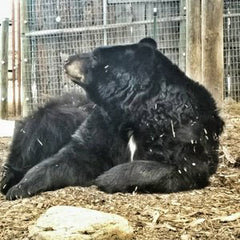 black bear
BUSTER was taken from his mother illegally when he was a cub and became habituated to humans. Montana Fish, Wildlife & Parks decided it would be unsafe to release him into the wild. He's very large for a black bear, usually weighing in at about 450 pounds.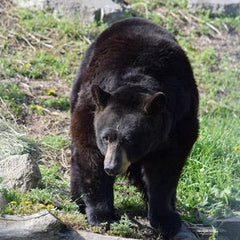 black bear
WINNIE, born in April of 1994, was orphaned when her mother was shot during hunting season, and Montana Fish, Wildlife & Parks transferred her here at about the same time as Buster. She is a climber, often found on top of the lockout between the two areas of the habitat she shares with Buster.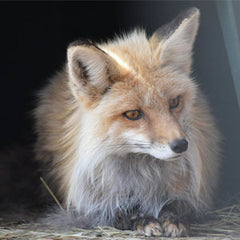 red fox
REX was taken in by a private individual when he was just a small kit in 2009. Because he imprinted on humans when he was little, he cannot be released into the wild.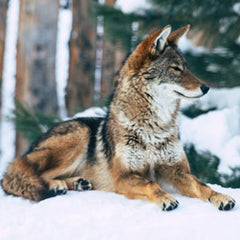 coyote
SCOUT was found as a tiny pup along with his littermate, Lola. The people who found them mistook them for dogs and took them to an animal shelter, where they were bottle-fed.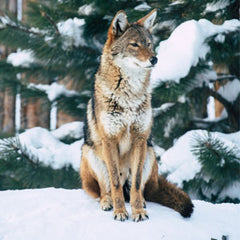 coyote
LOLA is Scout's sister. When the people at the animal shelter realized she and Scout were coyotes, they were transferred to a rescue facility, which declared them too habituated to be released. They came to us in October of 2018.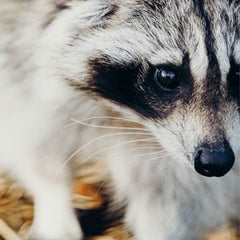 raccoon
MEEKA is unreleasable because she was hit by a car and lost one of her hind legs. She is still very active, and gets around well in her habitat, frequently climbing to high perches where she can look down on the world around her.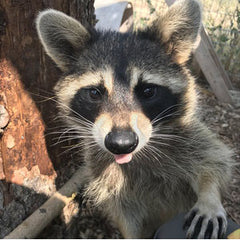 raccoon
COOPER is one of our newest animals. He was raised as a pet and is far too habituated to be released into the wild. Despite being cute and sometimes cuddly, raccoons generally make bad pets. They can be destructive, and their moods can change quickly.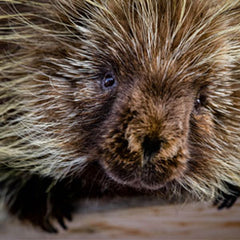 porcupine
ROCKY, born in 2013, is the older of our two porcupines. He was raised by humans, and became too habituated to people to ever be released into the wild. He is, however, a great ambassador animal, and we use him in many of our educational programs.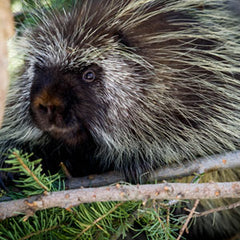 porcupine
SIDNEY was found abandoned in a trailer park in Cody, WY. She had multiple injuries, and was brought here for lifelong sanctuary. She was born in 2015. Sidney has bonded with Rocky, and she is sometimes used as an ambassador animal, too.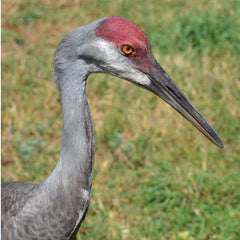 sandhill crane
NILES came to the Sanctuary in 2003 when she was about six months old. She had a serious neck injury and was imprinted on humans during her treatment, so she can't be released into the wild.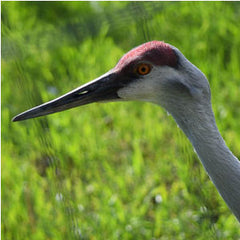 sandhill crane
BIG BIRD came to the Sanctuary as a nestling in 2008. He was imprinted on humans and had a serious wing injury, so he can't be released into the wild.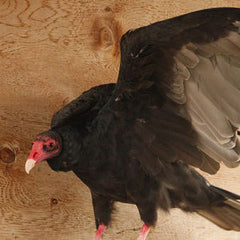 turkey vulture
LURCH was found with an injured wing and taken to Ironside Bird Rescue in Cody. Even after surgery, he couldn't extend his wing fully, so he can't be released. We believe he was born in 2006.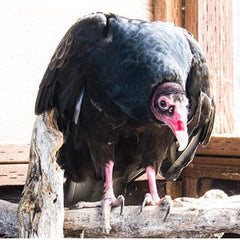 turkey vulture
UNCLE FESTER was taken to the Montana Raptor Conservation Center in Bozeman with two fractured bones that had set wrong, making him unable to fly well enough to migrate. He was born in 2010.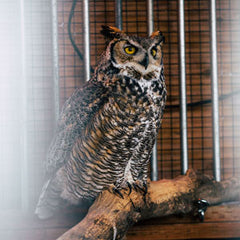 great horned owl
CAPTAIN was transferred here in 2005 with a broken wing after being hit by a car. She was an ambassador animal for YWS, visiting schools and helping us to teach people about owls, but she is retired now. We estimate she was four years old when she came here.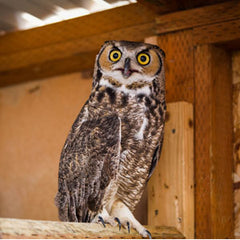 Great horned owl
BOBBY came to the Sanctuary in 2004 from a rehabber, after being caught in a barbed-wire fence that caused him muscle and wing damage. He was about two years old when we got him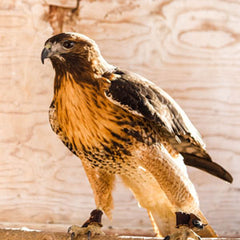 red-tailed hawk
MIA came to YWS in 2011 with a wing injury that limits her ability to fly, preventing her from ever being released into the wild. We believe she was about 2 years old when we got her. You will often see her wearing jesses (leather bracelets), as she is being trained for education programs.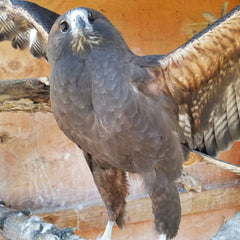 swainson's hawk
HAWKEYE came to the Sanctuary in 2005. She was injured as a fledgling and cannot be released into the wild because she is missing her left eye. We believe she was born in August of 2003.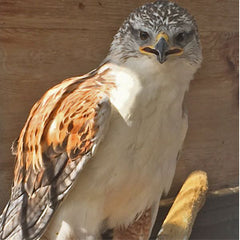 ferruginous hawk
ROUGE came to the Sanctuary as an adult from Ironside Bird Rescue in 2018, where he was admitted with a damaged wing. Since he isn't fully flighted, he can't be released into the wild. Rouge is the first ferruginous hawk we've had at the Sanctuary.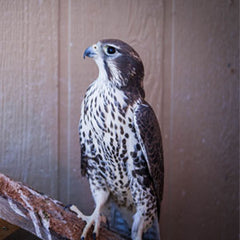 prairie falcon
PAULI was born in 2011 and has been at the Sanctuary since 2012. She cannot be released into the wild because of a serious wing injury that eventually led to amputation. Her habitat is arranged with perches she can hop or walk on to and off of, since she can't fly.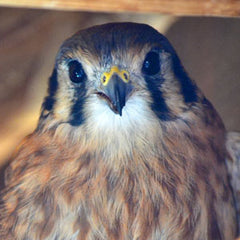 american kestrel
LAURA came to the Sanctuary as an adult in 2012 with a wing injury. Laura is only partially flighted now. She can get across her habitat with little difficulty, but can't soar or hover, so she couldn't hunt properly in the wild.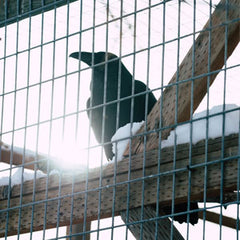 american crow
POETT was kept as a pet and became imprinted on humans, so he can't be released into the wild. His old owners had started teaching him to talk, but he only learned one word before coming here: hola, which means "hello" in Spanish. He was born around 2011.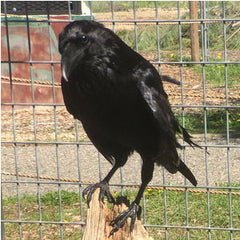 Raven
BART came to the Sanctuary with an injured wing in 2016 and cannot fly, although he hops and jumps well. He was born sometime around 2013.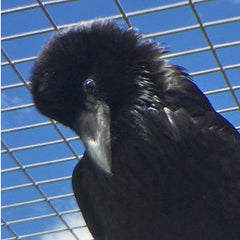 Raven
LISA came to the Sanctuary with a wing injury at about the same time as Bart, and they've become a bonded pair. She can not fly, so she can't be released into the wild. We don't know her age.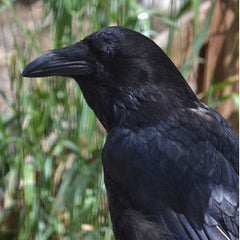 Raven
EDGAR, like our other ravens, came here due to a wing injury. He's been here the longest of our ravens (since 2006), and we estimated he was 3 years old when he got here.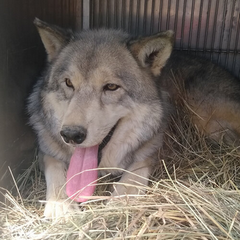 virginia wolf "ginny"
GINNY was born in Minnesota 2009, but came to Yellowstone from a sanctuary in California that was closing down. She and her brother, Dakota, have lived their entire lives in captivity.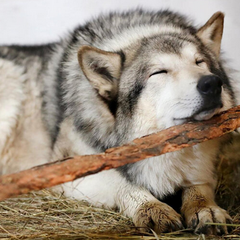 dakota
DAKOTA is Ginny's littermate and definitely the dominant animal of the pair. At 120 pounds, he is large for a Gray wolf.